Arkansas Made Dozier Black Widow Caper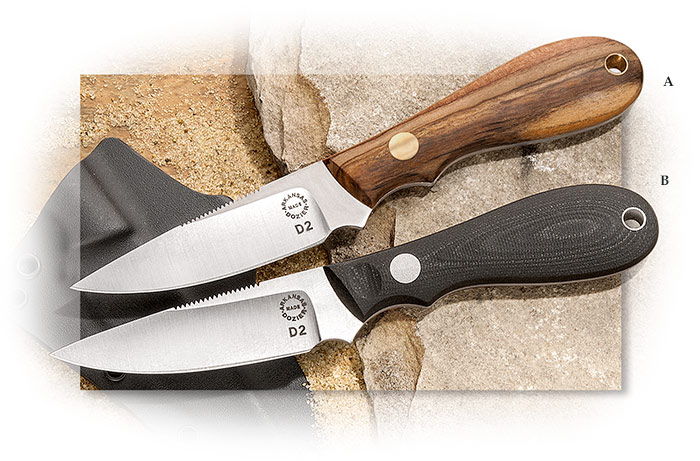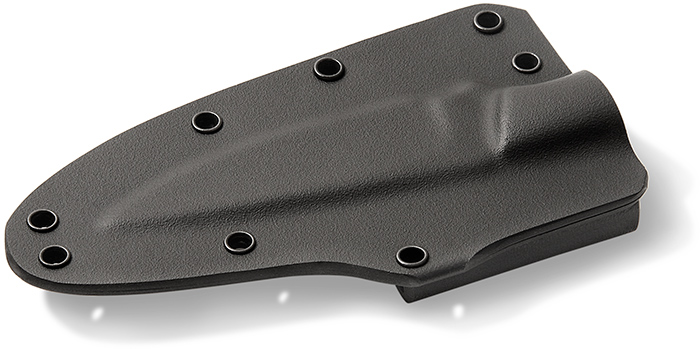 Daniel Crotts Design
Dozier "Arkansas Made" Knives are an every day carry class of knives that any serious hunter can afford to buy. Early 2016 I had lunch with Bob Dozier and his partner in the business, Daniel Crotts. Daniel was showing me a new knife he had designed and was carrying on his belt. I was just blown away and before the lunch was over, I had arranged for the exclusive rights to sell the knife that is being made in the Dozier shop and to reproduce it overseas.
This little knife measures only 6-1/2" overall with a 3" caping blade of D-2 tool steel with the special Dozier heat-treat at 60-61 Rc. The 3-1/2" handle is available with black G-10 or with our own African Ironwood that we brought in from South Africa. This is a beautiful, super-dense wood that is so solid that it does not need to be stabilized. This particular wood was harvested with permission from the government from trees that were bulldozed and stacked to be burned, in the process of building a dam.
The sheath is the remarkable Dozier Kydex® Safety-Carry horizontal carry sheath. Removing the knife requires the owners thumb pressing down on the top of the belt loop while pulling the knife up and out, assuring that it cannot be snatched off your belt by a limb, fence or another person.
Left hand sheaths are available by special order.
Option A
Dozier Black Widow Caper African Ironwood
Item #: DK-K47AI $295.00
LOW STOCK, CALL FOR AVAILABILITY
Option B
Dozier Black Widow Caper Black G-10
Item #: DK-K47BG10 $265.00
LOW STOCK, CALL FOR AVAILABILITY
Option A
Dozier Black Widow Caper African Ironwood
Type

Fixed

Blade

Caping

Blade Length

3"

Finish

Satin

Blade Steel

D2

Rockwell

60-61

Handle

African Ironwood

Tang

Full

Overall Length

6-1/2"

Weight

2.4 oz.

Sheath

Kydex

Origin

USA
Option B
Dozier Black Widow Caper Black G-10
Arkansas Made Dozier
Bob Dozier made his first knives when he was only twelve or thirteen years old. He told me the other day that after those few knives, he did not make another until he was about twenty-three and working as a rough neck in the oil fields in Louisiana. He talked about that first simple knife and then told a story about a co-worker asking to come to watch him make knives. Bob had made several knives by then and had created a small rough shop. He said the man stayed and watched until the knife was finished which took most of the day. When it was finished, he asked to look at it. After handling it for a while, he asked Bob how much he wanted for it. Without giving it any thought, Bob says he said $12.50. The man pulled out twelve one dollar bills and two quarters, laid them on the bench, got in his truck and left. Bob went in the house and told his wife he had just sold a knife which took him most of the day to make for $12.50. But, he told me, at that moment he knew he was going to be a knifemaker. That was about 1963.
If you had the opportunity to look through Bob's collection of his old knives, you would find that he has made many different kinds of knives; hunters, Bowies and fighters, and more recently folders. You can definitely see a relationship between a pair of fighting knives he made in those early years and the practical, utilitarian fighters that began to appear from handmade knifemakers and knife manufactures from the late 1960s and became tremendously popular during the Viet Nam War era. These knives used to be called fighting knives. Today they are called Tactical Knives.