Woods Used for Knife Handles
---

We will continue to add to, and to edit the information included in the A.G. Russell Knife Encyclopedia, and specifically to information about different handle materials.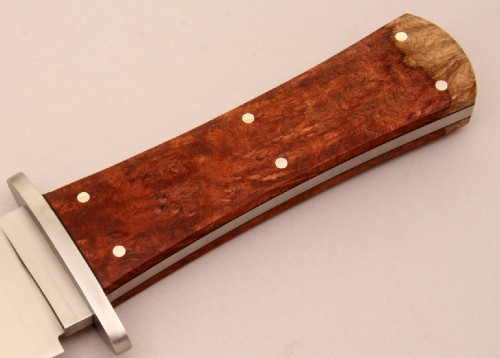 Amboyna Wood (also spelled Amboina)
Sometimes referred to as padouk. This is a rare, exotic hardwood with a fragrant aroma which varies in color from yellow to golden brown to red. It is used in cabinet making and is an excellent wood for both turning and finishing. From the Pterocarput indicus tree of the jungles of Southeast Asia.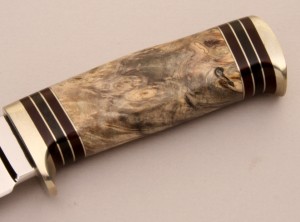 California Buckeye
As the name indicates, this tree is a species of buckeye native to California with some appearing in southwest Oregon. It is the burl from the California Buckeye tree that is commonly used for knife handles. There are lots of voids in these burls, so a lot of waste. Recently, some suppliers have begun to use pieces of this wood, that would otherwise be burned, to create what some are calling ShokWood. Pieces of wood with interesting shapes are embedded in a resin to create a very interesting handle material.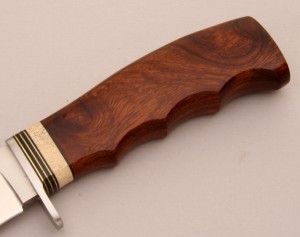 Desert Ironwood
Today with our customers, Desert Ironwood Burl is the most popular wood for handles. But Burl is now hard to find. Most of the raw material available today has more linear grain. Native to the Sonoran desert (Northern Sonora Mexico and Southern Arizona) it is a very dense tight grained wood, takes a very high polish (does not need to be stabilized) and tends to darken with use and age. The raw material that we buy is harvested from fallen trees.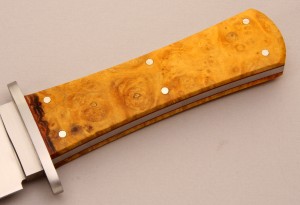 Maple Burl
Maple Burl is probably the most commonly used wood for handle material today. The wood comes from a growth (burl) on the big leaf maple tree, Acer macrophyllum. It has dramatic figure with large eyes. For use as knife handles, the wood must be stabilized to prevent cracking. It is usually dyed as a part of the stabilizing process and is the most common wood used to get the bright colors - red, green, blue, etc.