Blade Shapes
---

The name speaks for itself.

Clip Blade
Clip blades have for Centuries been the main blade in more knives than not. You have only to look at these knives to know the main feature of a clip blade.
Often found as the main blade in Premium Stockman, Trappers, Jack Knives and other knives.
Clip Blade, California Clip
The clip is even longer than the Turkish clip, it starts just in front of the tang.

Clip Blade, Long
Main blade in large folding hunters and other large knives.

Clip Blade, Sabre
The Sabre grind is one half to three quarters from the edge with a deep cut swedge.

Clip Blade, Texas Tickler
The Texas Tickler, also called Fish Knife (with hook disgorger) or Jack Knife, in its full size has a 5-1/2" handle.

Clip Blade, Turkish
The Turkish Clip or Yatagan Clip has a very long clip and a deeply swayed edge.

Coping Blade
A Carpenter's blade, used to work close to outlines. Always a second or third blade.

Corn Blade
When shoes seldom fit well, a person often had corns on the feet that needed to be trimmed. This was the blade used. This blade has not been made in many years.

Cottons Sampler Blade
No longer made for the trade, now only for collectors. Usually a main or single blade in a larger jack knife handle.

Electrician Screw-Driver & Wire Scraper
Very, very rare except in Electrician's knives made in the 1930's and 1940's then later on Government contract.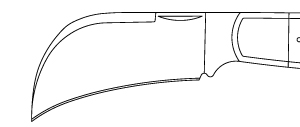 Hawk Bill or Pruner Blade
The origin of the Hawk Bill or Pruner Blade is lost in times before there was a cutlery industry. It began as a harvesting hook for grapes and other produce. A larger size was built for pruning fruit trees. When Linoleum was invented and there was a need for a way to cut it easily, and then again when electricity began to be used and the insulation needed to be stripped off the ends, the design was there and adapted for those uses as well.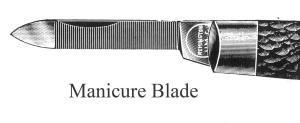 Manicure Blade, Common
This is the most common of all manicure blades.
Often seen as one of the small blades in a whittler.

Manicure Blade, Curved
This is the rarest of manicure blades and found in the highest quality knives. The tip is sharpened like a scalpel for trimming cuticles.

Manicure Blade, Grooved
This is more expensive and therefore harder to find than the common manicure blade above.

Manicure Blade, Lawton
I have been unable to find who Lawton was, but this is the most elegant of all manicure blades and is always seen in the back of lobster pattern knives.

Pen Blade
Pen knives were designed in the days of quill pens. Their purpose was to sharpen the points of the quills. The Pen Blade was the perfect blade for sharpening and splitting the point.

Pen Blade, Curved
A rare variation, can be curved up or down.

Pen Blade, Cut-off
A fairly common variation, often found in whittlers.

Pen Blade, Surgical
I have never seen one of these and have no idea of the original purpose.

Pruning Blade
For removing small branches or limbs.

Punch
A standard blade in Scout knives, cattleman knives, and Harness Jacks, used for putting holes in leather or plastic.

Razor Blade
Unusual blade, I have only seen them in Barlows.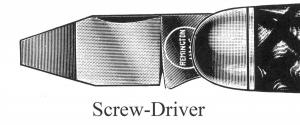 Screw-Driver
Rarely seen in recent years, once a staple in utility knives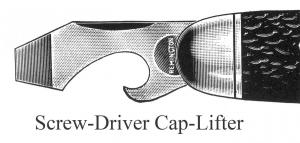 Screw-Driver Cap-Lifter
Rarely seen in recent years, once a staple in utility knives. Includes cap-lifter.

Sheepfoot Blade
A strong and useful blade, usually the second blade in stock knives.

Sheepfoot Blade, Long
Most often found in Congress pattern knives and rarely as main blade in Jack knives.

Spatula
Often the second blade in Doctors knives, also for artists knives.

Spear Blade
This is second in popularity only to the clip blade.
Spear Blade, Long
This is the Doctor's spear point blade.

Spear Blade, Sabre
Blades ground half to two thirds from the edge to the back and the top front third of the blade with a strong cut swedge.

Spey Blade
A very useful blade for working with livestock and for carvers.

Spey Blade, Budding Blade
Smaller version of the Spey blade, intended for grafting buds onto other plants.
Spey Blade, Long
The second blade in Trapper pattern knives.

Spey Blade, Long Curved
Very unusual blade, found in some unusual slim trappers and rarely other knives.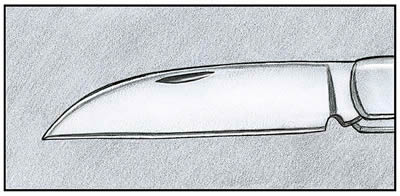 Wharncliffe Blade
A very useful blade from the 19th century. Very thick at the back for strength, tapering to a fine point and edge.

Zulu Spear Blade
The Zulu Spear Blade first appeared in a 1920s Schrade Catalog, no other history is available. The shape is a little different from the common spear blade, the point drops a bit more with a remarkable change in shape and attractiveness.